What is 7-Zip?
7-Zip is an open-source free archive manager to create and modify archive files. It can create Archives of any files and open different archive formats like 7z, RAR, Zip, and more. 7Zip is capable of making a highly compressed archive. For example, it can compress a 1GB file(s) into just 20MB or less with the recommended settings without losing any files.
On this page, we are writing the steps to create a highly compressed zip file using 7-Zip software. For example: using this 7-Zip best compression method for compressing large files, you can compress 1GB files into a 20MB zip file. These steps are created to provide a bit of help 7-Zip users on how to make a highly compressed archive by 7Zip using the recommended settings.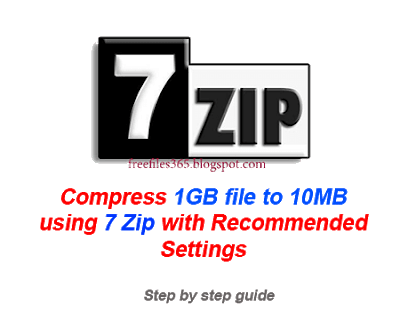 File archive manager is an essential piece of software for a personal computer user. This software is used to compress any large file to reduce the size. It saves disk space and makes it easy to store and transfer over the Internet.
7-Zip Best Compression Method to Compress 1GB to 20MB:
Using some file compression tools, we can compress 1 GB of data up to 20MB or less. 7 Zip is one such type of program used to compress files highly. 7-Zip is a very powerful free and open-source file archive and compression software. Here are the steps to highly compress files using 7-Zip with the best compression method.
Please remember that this compression process does not apply to all types of files. Text files like .txt files, documents, spreadsheets, PDF files are highly compressible. But you cannot compress some files such as mp3, mp4, videos clips etc using 7-Zip or other such types of software.
7-Zip is the best compression software that allows you to take several files and compress them into one file, which is smaller than the overall size of the original files. But, keep in mind that you cannot compress Videos, Mp3s, and JPEGs hugely compared to the original files as these types of files have already been compressed.
The Steps to Create Compressed Archive:
First of all, download the 7-Zip software from here. After completion of the download, find the 7-Zip setup file in the download folder and double-click on the setup file, and then click on "Install" to set up 7-Zip on your computer. After a few moments, the installation will be completed and you can launch the application
Video Tutorial:
Here is a video tutorial on a YouTube Channel namely Random Reels on 7-Zip Best Compression Settings to create a highly compressed archive and you can see the embedded video below:
Text and Graphics Tutorial:
To create a compressed archive, now put your files and folders in one place or folder that you want to compress. Now drag and select all these files/folders
When you install 7zip, it automatically adds a 7-Zip tab in the context menu. After selecting the files, right-click on the selected files and select "7 Zip" from the context menu and then click on the "Add to archive" option (as shown in the below image).
The 7-Zip compression window will open after selecting the "Add to Archive" option. Now you have to set the values properly in this window of 7-Zip to make a highly compressed archive. First of all, type the name of your archive and then move to the next option "Archive Format". If "7z" is already selected from the drop-down list, they do nothing. Otherwise, select 7z manually from the list. Then select the Compression level from the list as "Ultra" and the Compression Method as "LZMA2". LZMA (Lempel–Ziv–Markov chain algorithm) is a precise rule used to perform lossless data compression and LZMA 2 provides a better compression ratio than LZMA.
After that, set the size of the Dictionary Size to 64 MB. Dictionary size is an important factor and many important things such as compression ratio, compression speed, and system resources depend on the "Dictionary Size". Using a higher dictionary size gives better compression but more system resource is required to complete the compression and decompression process.
Now move to "Word Size" and use 64 from the drop-down list to maintain an average compression speed. After the Word Size, the next option is Solid Block size. This option allows you to improve the efficiency of compression of many similar files together.
Then, the number of CPU Threads is recommended not to use all the CPU Threads for file compression. If you have 4 CPU Threads then use only 2 Threads for the file compression or if your PC has 8 Threads, then you can use 6 Threads. Using all the CPU threads will not make your compression faster, but can make your PC slow during compression or decompression.
Another important option to set in this 7-Zip window is the Split to Volumes. This option allows you to split your large file into smaller pieces. Suppose, if you are unable to attach a file to your e-mail due to the huge size, then you can divide the large file into smaller files with this option. To do so, click on the arrow mark just under the Split to Volumes option and select the size limit of the files.
Please remember that you need 7-zip software and all the split parts of the original file in one place to decompress it again.
Download 7-Zip for Windows PC here.
This is a simple tutorial on the 7-Zip best compression method and settings. Using these settings, you can easily create a highly compressed archive with 7-Zip. But note that, this compression method only applies to text files, documents, spreadsheets, pdf documents, etc. You can not compress any image files, videos, audio, etc using 7-Zip.
Can I compress video files using 7-Zip?
No, you cannot compress videos using this 7-Zip file compression method. Actually, most video files are already highly compressed. Most modern video formats, such as MP4 and AVI, use advanced compression methods to reduce file size without losing quality.
Related Topics