The PDF file format has become a common and popular way to publish and store documents like eBooks, forms, manuals, bank statements, drawings, etc. PDF files are used by a wide range of platforms and these are compatible with different types of systems as they are easy and secure to store or transmit over mail etc. Any program used to read or view PDF files is called a PDF reader or PDF viewer. If you are searching to download the best free PDF reader software for your Windows PC, you can try these lightweight free PDF Readers and PDF editor apps.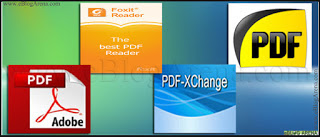 There are so many such types of applications available to view PDF files. In this post, we will share some of the best free PDF reader applications that are widely used and popular among users due to their superior features.
Best free PDF reader for Windows:
Foxit Reader:
Foxit Reader is a popular and versatile free software for Windows, Mac, and Linux operating systems that can be used to read and convert PDF files. In addition to its reading capabilities, Foxit Reader also offers features for editing and creating PDFs, adding signatures to PDF files, text-to-speech, bookmarking, splitting or merging PDFs, encrypting PDFs, multi-tab browsing, printing, sharing, and converting PDF files.
Foxit Reader also allows its user to check spelling check during editing. It also can make scanned text files readable with the help of an add-on called FZIP. Foxit Add-ons is another advantage provided by Foxit. We can install these add-ons to add some extra cool features to Foxit Reader. (Download Foxit add-ons here)
Software Details:
Product Name: Foxit Reader
Developer: Foxit Software
Supported OS: Windows 7, 10, Mac, Linux
Download (For Windows)
Download (For Mac OS)
Sumatra PDF:
Sumatra PDF is also a popular small and simple free PDF reader software. It is a free and open-source PDF viewer designed for Windows with some basic features like zoom, search, print, page rotation, etc. Though It does not have so many features like Foxit Reader or other modern PDF viewers, the advantage of Sumatra PDF is, that it is very small in size, it needs only a small amount of RAM and system resources, and it opens PDF files very fast and it is free. The interface is also very simple and anyone can easily use this app. A portable version of Sumatra PDF is also available.  
Sumatra PDF also offers a portable version, which is easy to carry in a USB drive and can be run from the USB.
With PDF format, it also supports some other file formats like ePUB, XPS, CHM, CBR, CBZ etc.
Software Details:
Download this lightweight best free PDF reader app:
Adobe Reader (Adobe Reader DC):
If someone asks you about free PDF reader software, the first name that came up to our mind is Adobe Reader as all Adobe products are quite popular and trusted products all over the world due to their high-end and reliable features. Adobe Reader is one of the oldest and most widely used best free PDF reader tools to read any type of PDF content including forms and multimedia. 
The recent version of Adobe Reader is known as Adobe Reader DC (Document Cloud). Now you can register for free Adobe Document Cloud services to store and access files in Adobe Document Cloud, which offers 2GB of free cloud storage, and also you can get some other benefits like instant access to recent files, sync latest activities on desktop, web and mobile devices, etc.
Adobe PDF reader allows the user to view all types of PDF file formats and also allows printing, zooming, selecting text and copying, searching, page rotating, signing, annotating PDF, etc. If you need a free PDF reader with some high-quality features then Adobe Reader DC can be the best choice for you. 
The only drawback of Adobe Reader is the size of the App. It is heavier compared to other free PDF reader applications and compared to its own features.
Software Details:
Download Adobe Reader for Windows PC: 
Slim PDF:
Another small but best PDF reader app is Slim PDF. Just like Sumatra PDF, Slim PDF is also a lightweight and simple application to read PDF files on Windows PC. The most useful features of Slim PDF are search, print, rotating, going to a specific page, skipping to the last/first sheet or adjusting zoom values, etc. 
SlimPDF is one of the world's smallest desktop PDF reader software. The size of the setup file of Slim PDF is only 1.43 MB and the size after installation is under 5 MB.

Software Details:
Download SlimPDF from here.
PDF-XChange Viewer

:
PDF-XChange Viewer is a free PDF reader and editor. It is small in size, fast to use and has a simple user-friendly interface, and offers many useful features like adding bookmarks, adding comments and markup, managing security and properties, encrypting PDF documents, etc, OCR (Optical Character Reader), adding a custom stamp to a PDF file, import PDF to image file, adding text directly to a PDF file, customizable toolbar, language support, etc. 
Download PDF-XChange Viewer:
Software Details:
Cool PDF viewer:
Cool PDF Viewer is a very lightweight PDF reading software for Windows PC published by pdf2exe.com. Using this software you can view, and print PDF files and it also allows you to extract, and crop PDF files, the slideshow of PDFs, and convert PDF files to TXT, BMP, JPG, GIF, PNG, WMF, EMF, EPS, TIFF, etc.
It is freeware and free for home and personal use only. If you want to use Cool PDF Reader in a business or commercial environment, you need to purchase a commercial license.
Software Details:
Product Name:

Cool PDF viewer

Publisher: pdf2exe.com

Supported OS: Windows 11, 10, Windows 7, Vista, XP, Windows Server.
Conclusion:
These are some of the best free PDF readers for Windows that are widely used and recommended by users. They offer a variety of features and are easy to use, making them ideal for anyone who frequently works with digital documents. For those who require more functions, there are several premium PDF reader applications also exist. These programs may provide capabilities such as annotation, text search, and form filling and can be applied to numerous purposes.
Related Articles