Opera browser for Windows is a simple, fast, and user-friendly browser that gives the user a very smooth web browsing experience. It is a cross-platform web browser that is available for Windows, Mac, Android, etc. You can also get the latest version of Opera browser installer files for other popular operating systems like Mac OS, Android, and Linux using the links shared on this page.
Download Opera for Windows 11, 7, 10, and 11 (32-bit and 64-bit) PC for free. The download links are listed below for both Windows 32-bit and 64-bit PC versions. (Click here to know if your PC is 64-bit or 32-bit).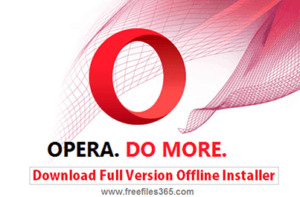 Opera is a free web browser that is available for Windows PCs and is also quite popular, which has been used for more than a few decades. It runs on Google's Chromium engine and it is available for different Operating Systems like Windows, Mac, Linux, Android, etc. The Opera browser is also available for smartphones and tablet devices.
Features of Opera browser:
The simple and clean interface lets the user handle the browser easily. In the latest versions of Opera, navigating different options is very easy. A new user can understand the interface of this browser easily. Also, this browser has many well-designed inbuilt services and features along with all the usual features like the other modern web browsers. Because of these inbuilt features, you don't need to download and install any extra browser extensions like Chrome and Firefox. Download Opera Offline Installer for PC now.
The floating sidebar is another best part of Opera. This sidebar appears on the left side of the browser window. From this sidebar, you can quickly access some important services like WhatsApp Web, Facebook Messenger, and some shortcuts like Instant Search, My Flow, Snapshot, Speed Dial, Bookmarks, History, etc.
Instant Search: In the Opera browser, now you don't need to open a new tab or leave your current one for a web search. This new Instant Search feature by Opera lets you do a quick web search that pops up over the current tab as a floating window and you can close it by clicking outside of it. This feature helps the user to search for any content instantly without losing the content of the current tab and without opening a new tab.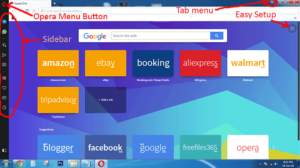 My Flow: It is another brand new feature added to Opera by the developers. This feature allows the user to store web content in a secure online vault for future use. Using "My Flaw", you can share the saved items between your phone and PC. Download the Opera offline installer for Windows PC now.
Inbuilt Snapshot: This is one of the best features provided by the Opera web browser. This allows the user to take a screenshot of the current tab. The user can adjust the area that want to capture or they also can capture the entire screen.
After installation, the Opera latest version automatically imports all the bookmarks, history, etc. that were previously saved by Google Chrome. You can also import all available bookmarks, settings, saved passwords, browsing history, and cookies from other web browsers that have already been installed on your PC.
The default search engine of Opera is Google Chrome and you can change it as your requirement on the browser settings page. You can access browser settings and other customization options by clicking on the "Easy Setup" icon. Under this "Easy Setup" option, you can also customize the appearance of the browser or change themes, wallpaper, etc. Opera also has an Add-ons library to customize the browser and you can find these add-ons here.
The Opera web browser also provides some essential security features like Antispyware, Antiphishing, Pop-up Blockers, Private Mode, etc. After activating the private mode in Opera, you can surf the web in stealth mode, and your browsing history, passwords, cache, and cookies are not saved by the browser.
To activate "Private Mode" in the Opera desktop browser on a Windows PC, click on the Menu bottom (The Opera icon at the top left corner of the browser), then select the "New Private Window" option from the drop-down menu. You can also press the CTRL + SHIFT + N keys together on your keyboard to activate the private mode.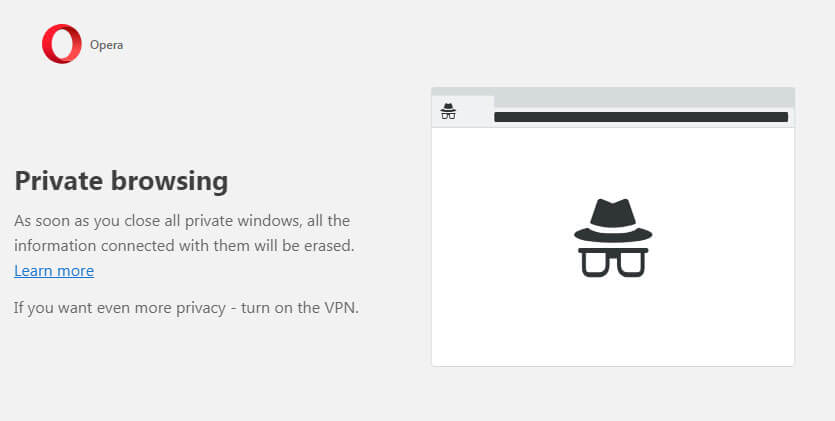 Technical details: 
Name: Opera Web Browser

Publisher: Opera Software
Category: Web browser

Installer Type: Offline Installer/.exe

Version: 102.0 (Latest Version)

OS Support: Windows 11, 10, 8, and Windows 7 (32-bit and 64-bit)
Download Opera Browser for Windows 11, 10, 7:
Opera 32 bit for Windows 10/8/7, Size: 91 MB
And
Opera 64-bit for Windows 10/8/7, Size: 98 MB
Or
Download Opera GX Gaming Browser for Windows.
Or
Opera for Windows XP/Vista
Or
Get the Opera Browser for other platforms:
Download Opera for other operating systems and platforms:
Opera Browser for Mac OS:
Opera Mini for Android:
Opera Mini is a lighter version of Opera browser for Windows and it is very popular due to its faster page loading capacity. Download the Opera Mini browser below:
Download Opera Mini APK for Android Phone
From the above download link, you can get the latest version of the Opera browser installer for Windows 11, 10, 7, XP, Mac, and Android. These are standalone installer setup files. After downloading these installers, you can use them to install the Opera browser on your devices. The links listed above are the official links to download the Opera browser offline installer from its official server.
Related Applications
Download Opera Browser for Windows 11, 10, 7 PC Free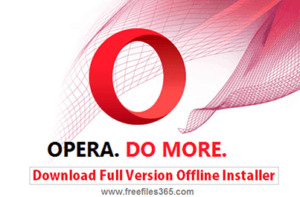 Download Opera Browser for Windows 11, 10, 8, 7 PC, 100% Safe and Secure Free Download Opera (32-bit/64-bit) Latest Version offline installer.
Price Currency: USD
Operating System: Windows
Application Category: Internet Browser