Windows 10 is one of the most popular versions of the Windows operating system by Microsoft. Even though Windows 11 is the latest release of Windows OS, Windows 10 ISO file is still very popular. Most of the new Windows PCs come with Windows 10 or Windows 11 pre-installed on them. But sometimes, we need to download a fresh version of the OS to install it on a different PC or to upgrade the current version of Windows. Downloading the Windows 10 ISO file allows you to install the latest Microsoft Windows operating system. Here, we are sharing the steps to download the latest version of Windows 10 ISO on your PC.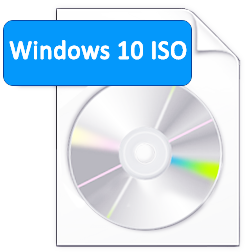 Download Windows 10 ISO File using the Media Creation Tool:
Anyone can download the ISO image file of Windows 10 OS from Microsoft legally to upgrade their existing OS or to install a fresh copy. Microsoft makes the operating systems available to everyone and there are several ways to download and install the latest version of Windows OS. On this page, we are writing the most popular and easiest way to get Windows 10 ISO on your PC.
Windows 10 installer comes in an ISO file format. You can create a Windows 10 bootable DVD or USB drive by burning the ISO file.
What is Windows Media Creation Tool
There is a software called Media Creation Tool developed by Microsoft. This is a tiny program used to download the Windows ISO file that you can later use to create a Windows 10 installation DVD or USB. This program makes it easy to create a bootable Windows 10 installer USB drive, and also allows you to download the Windows 10 installer file for future use. This tool is safe for your PC as long as download it from its official source. The official link to download the latest Media Creation Tool is listed at the bottom of this page.
The first download Media Creation Tool, and when the tool is downloaded, run it by double-clicking on it and then accepting the Microsoft Software License Terms.
Now, you will be asked whether you want to upgrade your current PC or create installation media for another PC. Then, select the second option that is "Create installation media" ( (USB flash drive, DVD, or ISO file) for another PC", as shown below, and then click Next.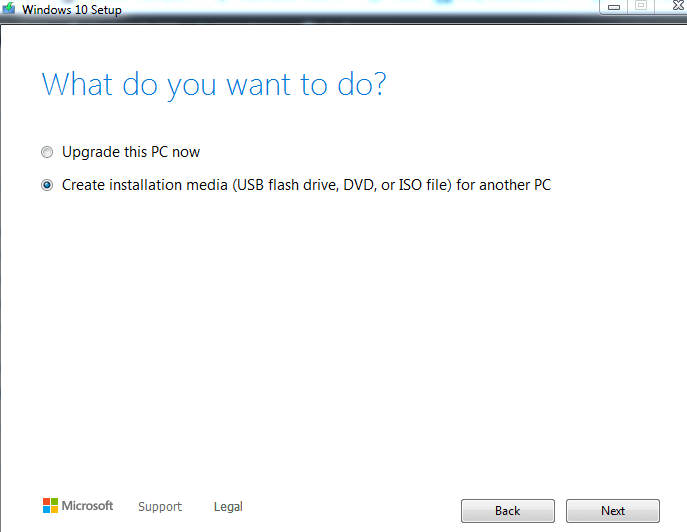 Now, you have to choose the Language, Edition, and Architecture of the ISO file. You can also check the box for "Use this recommended option for this PC" to let the tool choose the best options for your PC and click Next.
In the next window, you will be asked whether you want to create a bootable Windows 10 USB Flash Drive or burn the ISO file to a DVD letter. If you want the media creation tool to create a bootable Windows USB drive, then insert a USB drive in the port and click Next. The capacity of the USB drive should be 8 GB or bigger.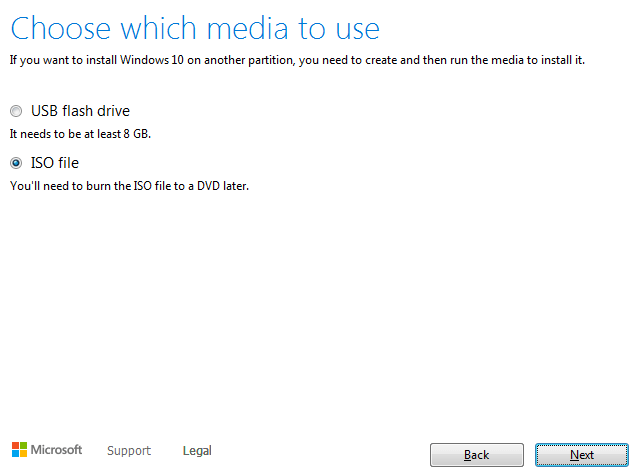 On the other hand, if you want to save the Windows 10 ISO file on your PC so that you can use it later to burn a DVD, then select the second option and click next (see the image above). After clicking the Next button, you can save the ISO in the very next window. Using this method, you can easily download Windows 10 ISO free.
Details of the program:
Program Name: Media Creation Tool.

Publisher: Microsoft

Category:

Size: 18.6 MB

OS required: Windows 7, 8, and 10 (32/64 bit)
Download Windows Media Creation Tool:
Here you can free download the latest Windows Media Creation Tool to download the latest Windows 10 ISO.
Related Programs