Losing data from devices like computers or smartphones is a common problem. We often lose important data from our PCs or smartphones or other storage devices due to various reasons like virus attacks, deleting data accidentally, damage to hardware and software, etc. Losing our important data is a major problem for us and since it is very difficult to get it again. At that time, the Data Recovery Tool can help us a lot.
Data recovery or undelete software scans our storage areas for deleted data and helps us get them back. Therefore, data recovery software is very essential for our computers (PC) and smartphones. In this post, I'm sharing the links to download a free effective data undelete or recovery software called Piriform Recuva and also guide you on how to recover deleted data from a computer or pen drive.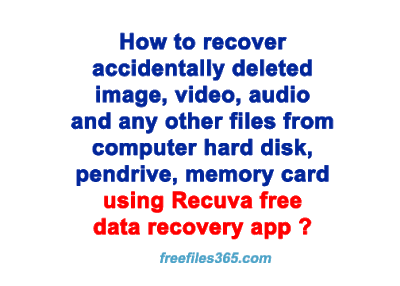 Recuva File Recover Software:
When it comes to a simple and user-friendly data recovery app, Piriform's Recuva is my first choice. Recuva is a free data recovery app that I always keep on my PC to recover my deleted photos, videos, documents, etc. Recuva is a freeware (Paid version is also available) Windows utility that can help us to restore data, which have been accidentally deleted from our computer.
Recuva scans our storage drives (including removable media like Digital Cameras, Memory sticks, Secure Digital, floppies, etc.) for deleted files including .exe files, video, image, mp3 files, docs, and many other file formats. Recuva also can recover data from a damaged and formatted hard disk. The Recuva free download here.
How to recover deleted files using Recuva (Wizard mode):
The user interface of Recuva is very simple. when you startup Recuva, you can see the default welcome window of Recuva with the file recovery wizard. The user can select the "Next" button to follow the wizard to recover deleted files step by step or simply skip this wizard by pressing "Cancel" to directly access the advanced file recovery features of the program.
Recuva welcome screen 
If you select the "Next" option from the Recuva wizard, then you have to select what type of file you want to recover or all types of deleted files. There are five options to select including "Email" or you can select all at once by selecting "All Files".
Recuva wizard mode
On the next page, you have to select the location from where the files were deleted or where you want to search for lost data. If you want to scan a particular drive or folder then you have to click on the option "In a specific location". Then click "Next" to go to the last page of the Recuva wizard.
Recuva data recovery 
On this page, you can optionally choose the deep scan option to perform the scan process thoroughly. And then click on Start to begin the search process and the rest will be done by itself.
After finish the scan process, Recuva displays search results in the main window. Once you have reviewed the search results, you have to select the required files you want to recover by clicking on the checkboxes. Then click Recover, select a destination folder or drive to store the recovered files and click OK.
Recuva 

displays search results
How to recover deleted files using Recuva (Advance mode):
In Advanced mode, expert users can use Recuva to quickly recover a particular file format by specifying the file format, file extension, file location, size of files, and other options within the same window. In Advance mode, the user can also set to perform a "Deep scan" to scan thoroughly and "Scan for non-deleted files" to recover files from damaged or reformatted disks under the Action Tab of the Options Menu.
Features of Recuva Free version:
Undelete or retrieve deleted files on our computer.

Recovery from damaged or formatted disks.

Also helpful to recover deleted emails.

Recover deleted iPod music.

Restore unsaved Word documents.

Quick-Start Wizard.

Deep Scan for better search results.

Helps to delete files securely. 

A portable version is also available that can carry in your flash drive and can be used without installing it on a computer.

Supports Windows all versions and the Android platform

Available in many languages.
System Requirements:
Recuva can run on all Windows versions (Windows 10, 8.1, 8, 7, Vista, and XP) Including both 32-bit and 64-bit platforms.
Download Recuva for Windows:
Details of the software:
Software Name: Recuva Free
Developer: Piriform Ltd.
Category: 
Utility/
File Recovery
How to Recover Deleted Files on PC or Pendrive With Recuva Free