OpenVPN isn't just ordinary VPN software; it's a powerful and versatile application and the go-to choice for those seeking robust and flexible VPN solutions. Download OpenVPN for Windows PC offers a wide range of tools and features.
What is OpenVPN?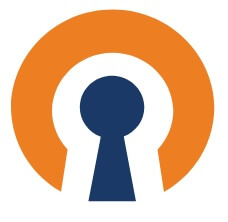 OpenVPN is an open-source VPN and security app that you can download for Windows PC for free. It supports SSL/TLS encryption to keep your data safe. Whether you need to create virtual private networks with ethernet bridging, tunnel your traffic over TCP or UDP through proxies or NAT, handle dynamic IP addresses and DHCP effortlessly, or scale up to serve hundreds or even thousands of users, OpenVPN has your back. Also, it works seamlessly on most major operating systems.
OpenVPN is intimately connected with the OpenSSL library, drawing upon its cryptographic prowess. It is designed to work with the TUN/TAP virtual networking interface which is found almost on all platforms. These features give OpenVPN its edge, making it a stalwart guardian of your online privacy and security.
Is OpenVPN Secure:
OpenVPN is all about providing you with choices when it comes to encryption. You can opt for conventional encryption using a pre-shared secret key in what's known as Static Key mode. Alternatively, for a more robust and secure option, you can go the public key route with SSL/TLS mode, using client and server certificates.
OpenVPN isn't limited to encryption alone. It's also versatile enough to handle non-encrypted TCP/UDP tunnels when the situation calls for it. So, whether you're seeking ironclad security or a more lightweight setup, OpenVPN has the flexibility to offer your needs and enable you control over your data.
Interface:
The user interface of the most recent version of OpenVPN for Windows, known as OpenVPN Connect, has undergone a significant makeover. This fresh interface is designed to enhance the overall user experience, simplifying both the installation process and day-to-day usage of the OpenVPN software on major platforms.
One standout feature is the intuitive import function. Now, you can effortlessly import profiles directly from your OpenVPN Access Server, streamlining the setup process. Additionally, if you have a saved profile stored on your computer, importing it from your disk is a breeze. OpenVPN Connect is all about putting the power of secure connections into your hands with ease. It's all about user-friendly VPN access. Download Open VPN for Windows 11, 10, and 7 PCs for free.
Features and Uses:
OpenVPN is a versatile tool with a wide range of applications that go beyond traditional VPN usage. Here are the key features and its uses:
Secure Network Tunneling: With OpenVPN, you can tunnel any IP subnetwork or virtual ethernet adapter over a single UDP or TCP port, ensuring that your data remains secure and private during transmission.
Scalable VPN Server Farm: Configure a scalable and load-balanced VPN server farm using multiple machines. This enables you to handle thousands of dynamic connections from incoming VPN clients efficiently, making it ideal for businesses or organizations with expanding network needs.
Robust Encryption: Leverage the full spectrum of encryption, authentication, and certification features provided by the OpenSSL library to safeguard your private network traffic as it traverses the internet. Your data remains shielded from prying eyes.
Customizable Security Parameters: OpenVPN offers flexibility in choosing ciphers, key sizes, and HMAC digests for datagram integrity checking. You can tailor the security settings to match your specific requirements.
Encryption Methods: Opt for either static-key-based conventional encryption or certificate-based public key encryption, depending on your security preferences and infrastructure setup.
Key Exchange Options: Use static, pre-shared keys for simplicity or employ TLS-based dynamic key exchange for enhanced security. OpenVPN supports both approaches.
Bandwidth Management: Implement real-time adaptive link compression and traffic-shaping to effectively manage link bandwidth utilization. This feature is crucial for optimizing network performance.
Dynamic Public Endpoints: OpenVPN can tunnel networks with dynamic public endpoints, such as networks with DHCP or dial-in clients. It adapts to the ever-changing nature of these connections.
Firewall Compatibility: Easily tunnel networks through connection-oriented stateful firewalls without the need for explicit firewall rules. This ensures smooth data flow while maintaining security.
Overcoming NAT: OpenVPN can tunnel networks over NAT (Network Address Translation), making it a versatile solution for scenarios where NAT is in use.
Creating Secure Ethernet Bridges: Utilize virtual tap devices to create secure Ethernet bridges. This capability is valuable when you need to extend your network securely across multiple locations or segments.
Technical details:
Download OpenVPN for Windows PC 11, 10, 7 PC:
Download Windows 64-bit version, Size 4.9 MB:
Download Windows 32-bit version, Size: 4.4 MB:
Or see these best free VPN apps for Windows PC:
Is OpenVPN free?
Yes, OpenVPN is an open-source free application. It won't cost you a single penny to use it. Even if it requires some configurations, but is really a handy and powerful free tool for your privacy and security.
How to set up OpenVPN?
Once the download is complete, run the installation file. Follow the on-screen instructions to install the OpenVPN client on your computer. It's like setting up any other software. Input the URL for Your OpenVPN Server or Drag and Drop the Config File:
Now, here comes the fun part. You'll need the configuration details for your OpenVPN server. You can either enter the server's URL, which is usually provided by your VPN service provider, or you can simplify things by dragging and dropping the configuration file. You can visit VPNBook to download the configuration and certificate bundle for free.
Conclusion:
Overall OpenVPN is a robust and adaptable tool that can be configured to meet a wide range of networking needs. Whether you're looking to enhance security, establish a scalable network, or overcome specific network challenges, OpenVPN provides the flexibility and features required to do so effectively. Its versatility makes it a valuable asset for both individuals and organizations seeking secure and efficient network solutions. Download OpenVPN for Windows PC now for free.
Related Software