Audacity Audio Editor for Windows:
Download Audacity for Windows PC free, it is an open-source free multi-track audio editing and recording application. It is a cross-platform application available for Windows, Mac, Linux, and some other operating systems. This free audio editor and recorder allow you to edit audio like professional sound editing software. If you are looking for free software to edit and record audio files like a professional one with a free application, then Audacity is one of the best choices.
The freeware enables people to go beyond the basics of sound editing by offering high-quality audio, plug-ins, etc. Developed by volunteers, the audio file tool was released in 2000 and continues to receive consistent updates. Audacity is compatible with Apple Mac, Linux, and Windows Microsoft operating systems. Audacity download for Windows PC is one of the most downloaded free software from SourceForge.
Audacity is an open-source audio editing tool created by volunteers and released in 2000. It gives users the ability to improve their sound editing with excellent-quality audio. It also supports and lets you add external plugins to perform different editing tasks and extend its functions. You can download Audacity for Windows PC and install it easily on any Windows 11, 10, and Windows 7 (32-bit and 64-bit) computer systems.
Audacity for Windows

Audacity (Image Source)
A powerful audio editor for PC:
The latest releases of Audacity make it easier than ever to work with audio files on Windows 10 and 11 PC. With its user-friendly interface, even a new user can start editing and creating amazing mixes. Not only that but because of its supporting many file formats, you can make some incredible music with this audio editing software for free. Download Audacity for Windows 32-bit and 64-bit PC for free.
Audacity is an audio editor application that provides us with a complete set of tools that let you cut, copy, paste, trim, mix our audio tracks or apply effects to your recordings. Audacity can be used for post-processing of all types of audio, including podcasts by adding effects such as normalization, trimming, fading in and out, etc. It is one of the best free digital audio editors that have some compelling features such as a recorder, mixer, controller, and many others. It is an all-around open-source audio editor that can be used as a professional audio editing application due to its high-end features.
Features:
Audacity has many powerful advanced features like other professional audio editing software.
It can record from most audio sources like microphones, mixers, streaming audio, audio played on Computers, and other digital audio sources.
Audacity has a smart Device Toolbar to manage the different recording and playback devices.
You can also view and read about all pre-installed effects here.
Plugins: Audacity supports a large number of plugins and extensions and which are available to download here.
Ability to import files directly from a mixing board.
It enables a waveform view of each file, allowing for individual or simultaneous editing of multiple tracks.
You can easily cut and paste tools for removing or inserting sections of a file.
It lets you merge multiple files to create music.
It has powerful built-in equalizer and distortion settings.
The Auto duck feature lowers volume on a track when another is played.
Ability to reverse tracks, trim silence, set timers, and stack one track over another
See how to install Audacity and plugins
Name: Audacity
Developer: The Audacity Team
License: Open Source/free
Category: Multimedia /Audio Editor
Supports OS: Windows  11, 10, 7 (32 and  64-bit)
Version: 3.3.3 (Latest Version)
Size: 14.6 MB
Download Audacity for Windows PC free:
Audacity 64-bit download, Size: 14.6 MB
Audacity 32-bit download, Size: 14.6 MB
Download Audacity for other OS:
Audacity for Mac OS:
Download Lame for Audacity
For Windows (515 Kb) or For Mac OS (216 KB)
Or learn How to  install the LAME MP3 encoder for Audacity
FAQs:
It is easy to edit audio with Audacity?
Audacity for Windows is a straightforward program that is simple and easy to use. It is equipped with a neat user interface, with each function set out in organized menus. It can be used by both newcomers and experienced sound editors, and they won't be confused by its complexity. There is also a helpful guide to assist in learning the basics. The design is plain and uncluttered, which makes it simple to incorporate files into the program, whether they already exist on the computer or you record a new track through the microphone.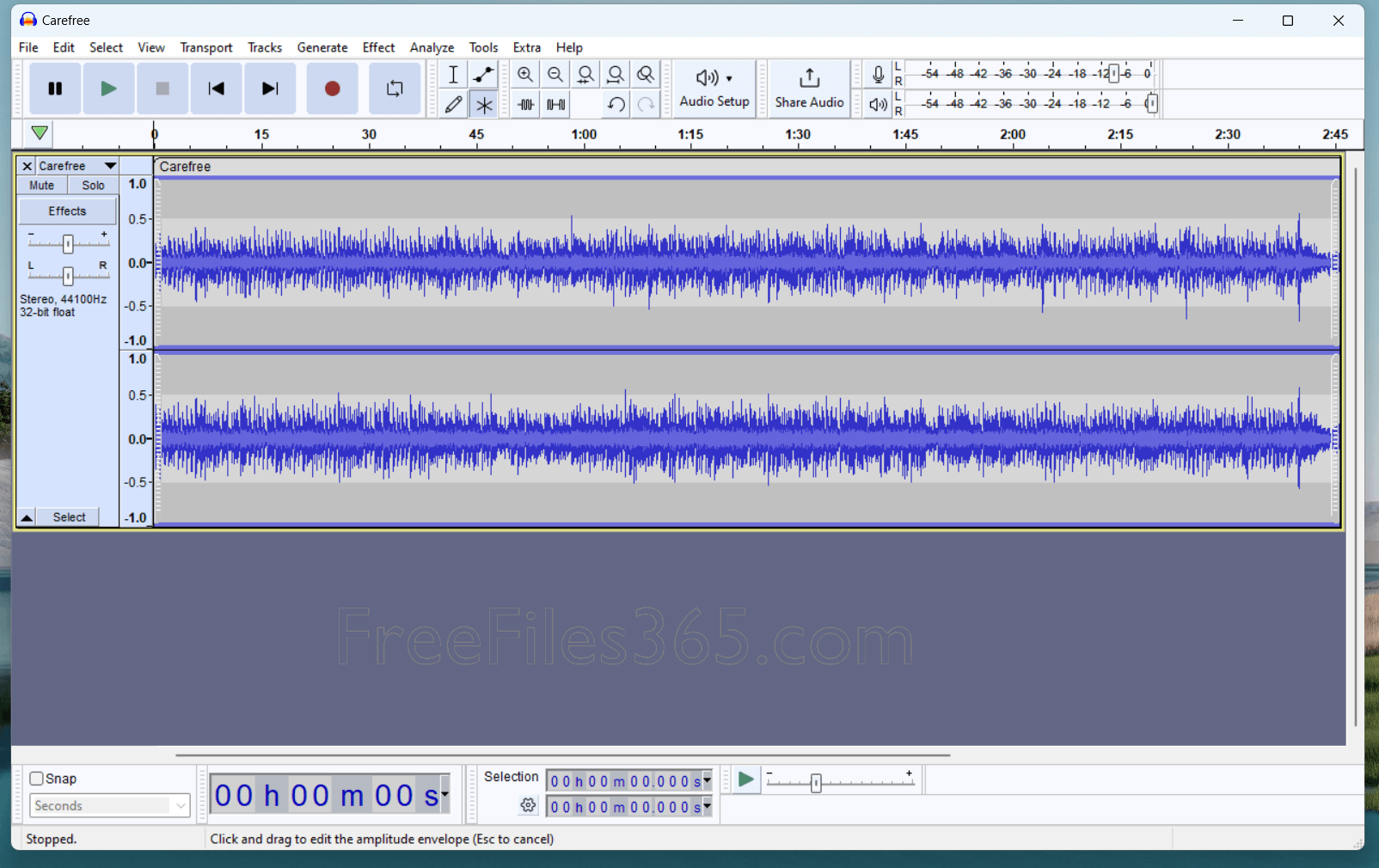 Is Audacity really free?
Yes, Audacity is a completely free application that you can use for any purpose. You even don't need to register for the program. This open-source professional program provides all of the functionality that is present in a paid tool for free.
Is Audacity safe to download and use?
Yes, Audacity is secure and won't cause problems on your computer. It doesn't collect personal data without your permission and is compliant with all legal regulations. It's suitable for use in any country and supports 38 languages. The application is a safe bet when downloading. It is coded in C++, it is an open-source project which has grown to boast a huge base of developers and contributors. To ensure utmost security, the Audacity team advises activating your antivirus software before attempting to download and install the software. Download Audacity for Windows PC now for free.
Related Multimedia Apps