WinRAR is another popular and powerful file archiver developed by Rarlab. It is one of the most popular and widely used file archiver utility apps due to its high compression and decompression ratio. WinRAR is very small in size (less than 2 MB setup file), simple, user-friendly and it is very easy to use due to its simple User Interface. You can download WinRAR for Windows 10, 8, and 7 computers for 32-bit and 64-bit platforms.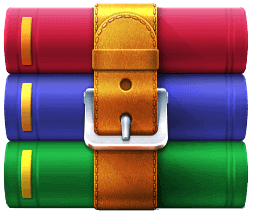 WinRAR is a powerful archive manager. It can back up your data and reduce the size of email attachments, open and unpack RAR, ZIP, and other files downloaded from the Internet, and create new archives in RAR and ZIP file format. You can try WinRAR before buying, and it offers a trial period of 1 month. You can also use the app after ending the trial period
The archive made by WinRar uses the .rar file extension and the compressed file produced by WinRar is called RAR file. WinRar is the only software that can create RAR files or RAR archives. WinRAR completely supports RAR and ZIP archives and it can unpack CAB, ARJ, LZH, TAR, GZ, and TAR.GZ, BZ2 and TAR.BZ2, ACE, UUE, JAR (Java Archive), 7Z, XZ and Z (Unix compress) archives. 
WinRar is the best solution for creating a backup of our files, compressing and reducing the file size to send over mail or store, and decompressing RAR or other compressed file formats very easily. WinRar offers us the ability to create password-protected archives. It uses an AES (Advanced Encryption Standard) with a key of 128 bits or 256-bit password encryption to protect the files from being damaged or stolen. Download WinRAR for PC now.

[Related Software]
Application Details:
Name:

WinRar 

Developer: 

RarLab
Category: File Archiver/File Compression
Version: 6.21 (Latest Version)

Release date: 

Size: 3.2 MB and / 3.4 MB

OS: Windows, Mac, Linux, Android

Language: English
Download WinRAR for Windows PC:
WinRAR 32-bit for Windows
Or
WinRAR 64-bit for Windows
Download WinRAR apk for Android Smartphone: 
Download (Size: 5.9 MB)
Download WinRar for Mac operating systems:
DOWNLOAD (Size: 593 KB)
Related Apps
Is WinRAR Free?
WinRAR is a trialware, hence it's not free. But, even though WinRar is not free software, it gives a 1 month free trial period. After completion of the trial period, WinRar asks the user to buy the full version. But still, you can use this app after the trial period without registering for free. The only drawback of this free use is that whenever you open the program, you will be prompted to buy a license.
Related Software