Artha is a WordNet-based cross-platform open-source thesaurus software for Windows and Linux Operating Systems. It is a handy and simple but very powerful offline English dictionary that enables you to look up the meanings as well as synonyms, antonyms, and derivatives of specific words easily. It's a Lightweight offline thesaurus with support for regular expression lookups.

Artha is very simple to use and also to look up meanings as it runs from the system tray in the background and can be accessed using a hotkey after highlighting a word in any app. It is considered one of the best replacements for WordWeb Pro Dictionary software. The Artha English Dictionary download link is here. Download Artha English Dictionary for Windows 10, 7, and XP (32 and 64-bit) computer systems for free. 
FAQs about the Artha Dictionary Application:
Is Artha a Free Dictionary Software?
Yes, it is 100% free. Since Artha is released under the GNU General Public Licence version 2; this app is completely free to use and it is also free to copy or redistribute.
How to use Artha English Dictionary?
The interface of the program is very simple hence it is easy to look up words. You can directly type the word or paste a copied word in its search box and click the search button or press Enter and the result will be displayed instantly. You can find synonyms of a highlighted word by pressing the keyboard shortcut Ctrl + Alt + A.
Features of Artha English Dictionary:

Synonyms

Antonyms

Derivatives

Pertainyms

Attributes

Similar Terms

Domain Terms

Causes

Entails

Hypernyms

Hyponyms

Meronyms

Holonyms

Suggestions etc.
The Artha Dictionary App also has some other great features like providing spelling for a misspelled word, instant meaning or synonyms or antonyms search using Hotkey, open-source free dictionary, etc.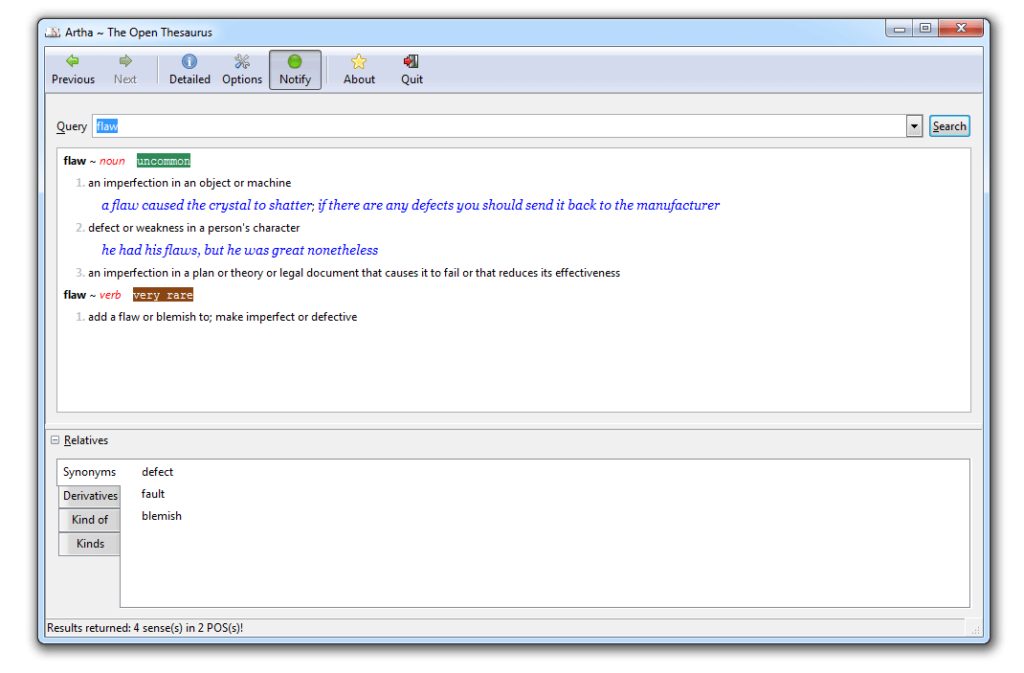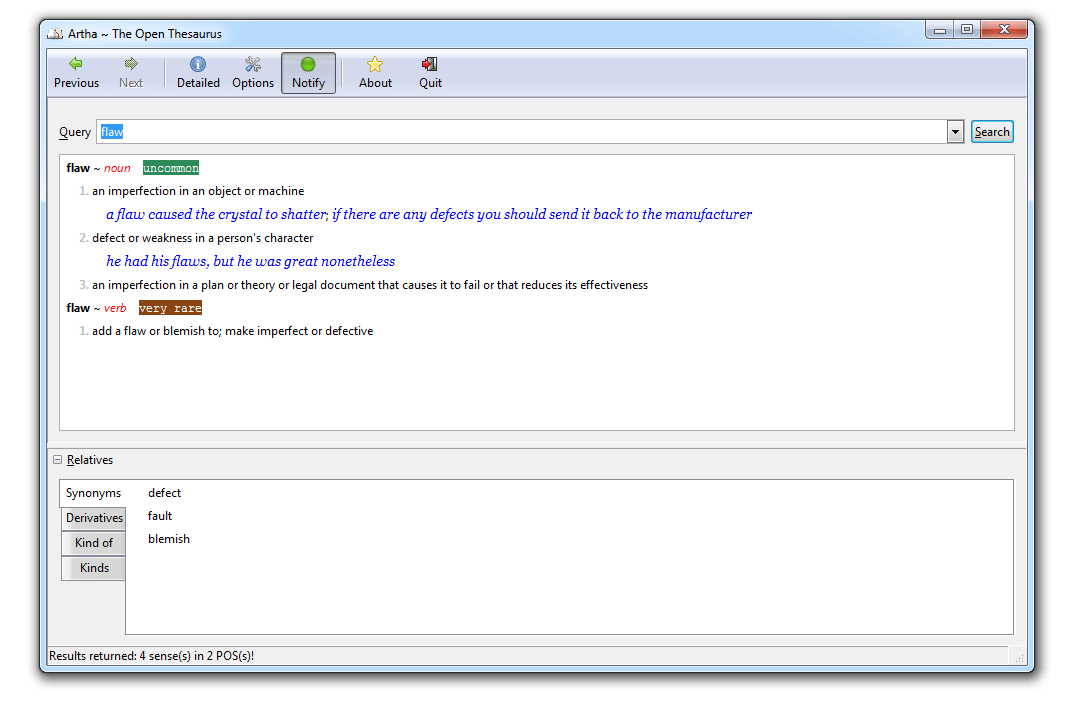 See all the features of this dictionary software here: artha.sourceforge.net/wiki/index.php/Features
Related Software
WordWeb: The best free English dictionary app
Software Details: 
Name: Artha ~ The Open Thesaurus

Version: 1.0.3.0

Developer: Sundaram Ramaswami
Publisher: sourceforge.net

Software Type: Full Version Offline Installer

Size: 12 MB Download, 51 MB installed (For Windows)

License type: GPL
Download Artha Dictionary for Windows:
or download it from sourceforge.net
Download here
or

Download Artha Portable Version:
The portable version of this program can be installed on a USB flash drive, which enables you to take it anywhere and run it on any Windows PC that you have been granted access.
Related Software