What is Ultimate Dictionary?
Offline dictionaries help us a lot in our daily activities like whenever we browse the internet, write mail, review gadgets, create blogs, and so on. Among several offline dictionary apps, Ultimate Dictionary is such a useful offline dictionary for Windows PC. It is a complete collection of dictionaries with which you can look up words on your Windows desktop. Ultimate Dictionary includes a huge collection of dictionaries (more than 35) so the size of the installer file is about 158 MB. It enables you to look up definitions, synonyms, and translations in different languages.
Ultimate Dictionary is a free, offline English dictionary that provides over 100,000 words and definitions, synonyms, antonyms, cognates, pronunciations, a thesaurus, a word game, a word builder, and a pronunciation guide. It is user-friendly, accessible offline, and a great tool for students, teachers, and language learners to improve their language skills and expand their vocabulary.
You can download this free dictionary software forWindows 32-bit and 64-bit computers from below:
Download Ultimate Dictionary:
Software information and system requirements: 
One of the standout features of Ultimate Dictionary is its user-friendly interface, which makes it easy to find the information you need. The program also includes a thesaurus, which provides users with a wealth of synonyms and antonyms to enhance their language abilities.
In addition to its comprehensive dictionary and glossary, Ultimate Dictionary also includes a variety of other tools and resources to help language learners and native English speakers alike. These tools include a word game to help users expand their vocabulary, a word builder to help users learn new words, and a pronunciation guide to help users perfect their pronunciation.
Another great feature of the Ultimate Dictionary is its offline capability, which allows users to access its resources even if they are not connected to the Internet. This allows anyone who wants to improve their language abilities on the go, without the need for an internet connection.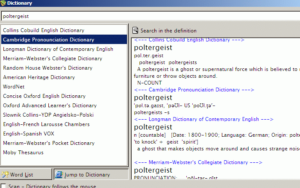 Ultimate Dictionary is an excellent resource for anyone looking to improve their language skills or expand their vocabulary. With its comprehensive dictionary and thesaurus, user-friendly interface, word games, word builder, and pronunciation guide, this program is an ideal tool for students, teachers, and language learners alike.
Related Software