A dictionary tool is useful in defining words, finding synonyms, and antonyms, correcting spellings, grammatical mistakes, and many more. There are a variety of applications that can help us in this process, but WordWeb is one of the exceptional offline English dictionary apps for Windows.
WordWeb Offline English Dictionary:
WordWeb is a free English-to-English offline Dictionary software for Windows PC. It is one of the must-have software applications for our computers and smartphones that let us learn about new words and expand our vocabulary and also helps our students to break down the word, and understand what it means.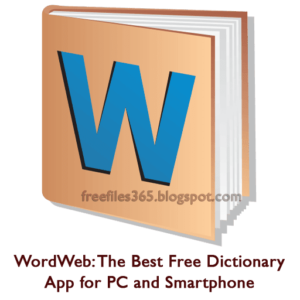 WordWeb is a powerful and comprehensive one-click English thesaurus and dictionary for Windows as well as Mac, iOS, and Android OS. This dictionary allows the user to look up meanings of any words in almost any program and also find definitions, Antonyms, synonyms as well as related words with a one-click search.
Download WordWeb Free for Windows 11, 10, 7:
Or
Get it for Android platforms here.
Software information and system requirements: 
Price: Free (Limited functionality)

Publisher: WordWeb Software

Publisher website: www.wordwebsoftware.com

File size: 23.1 MB
Version: 10.23

Operating Systems: Windows 7, Windows 10, and Windows 11.
Free Alternatives to WordWeb:
Is WordWeb a free dictionary?
Yes, WordWeb is completely free for PC. Even though it has a paid version, but there are no drawbacks and only a few limitations in the free version. You can download and use it for free and WordWeb dictionary is available for Windows PC, Mac, and Android Smartphones as well as iOS. Download WordWeb offline English dictionary app for Windows using the links listed at the bottom of this page.
**Read more about WordWeb free version licensing here.
What is an offline dictionary?
In terms of usage patterns, there are basically two types of dictionary applications available for PCs. One of them mainly can be used or accessed through a web browser that required an active internet connection, and it is called the online dictionary. But an offline dictionary does not need any network connection to access it. It is a standalone dictionary software application that you need to install on your computer and you can use it anytime whether you have an internet connection or not. 
WordWeb free is such an offline dictionary and learning tool for our daily life. This popular offline dictionary and treasure app are very helpful for learners, students, writers, bloggers, etc to extend their knowledge and work efficiency. Since offline dictionaries can use computer-stored databases to give meanings to words, they sometimes have less vocabulary and meanings than online dictionaries.
WordWeb Features:
Even WordWeb is an offline dictionary, it also provides online search features and is also able to look up word definitions in Wikipedia, Wiktionary, etc. WordWeb has a huge collection of words and definitions in its database. It has over 160000 root words, hundreds of thousands of definitions and synonyms, and 5000 audio pronunciations and includes a full dictionary and thesaurus for different English variants including American, British, Canadian, Australian, Indian, and global. 

"Hear pronunciation" is another great feature included in the WordWeb dictionary. Using this feature you can also hear the pronunciation of any word. Most importantly, it is an offline dictionary. That means it doesn't require an active internet connection to find the result.

You can install WordWeb as a portable app so that you can carry this app on any removable drive and can use it directly from the removable drive which could be run on any accessible computer. Because, when you install it as portable, it does not enter any values on your computer registry.

Also, It has no hidden charges, no SpyWare, and AdWare, and is free from viruses.
How to Install WordWeb Free:
To install as portable, Click on the Advanced Options button during installation and check the checkbox against "Install as portable app" and complete the installation wizard.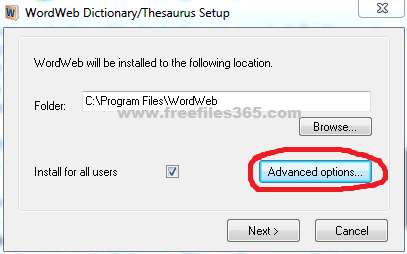 The user interface is plain and simple to use. You can find the definition of a word by typing or inserting the word into the search box.  On the other hand, the easiest way to look up a word is by simply pressing the Ctrl key on your keyboard and right-clicking on that particular word (Ctrl + Right-click) simultaneously.
In the results, you can view the nearest word, the noun, verb, adjective, and adverb form of the respective word (wherever the case), synonyms, antonyms, "Type of" and derived forms.
Functions of WordWeb: 
Offline English dictionary and thesaurus

One-click lookup in any Windows program

Definitions, synonyms, and related words

Pronunciations and usage examples

Quickly cross-reference Wikipedia and others

Add Oxford, Chambers, and Collins dictionaries
Features of WordWeb Free Version

**

: 
Definitions and usage examples

Synonyms and many related words

5000 audio pronunciations

300000 root words

160000 synonyms

Fixed web reference tabs (Wikipedia)