What is Everest Dictionary?
Everest Dictionary is an offline dictionary software for Windows PC. It is a very useful tool for anyone looking to increase their language knowledge and understanding. This comprehensive and free computer dictionary has a huge database of dictionaries covering most European languages, making it an essential tool for students, language professionals, and anyone who deals with words and language. Its comprehensive database and easy-to-use interface make it a great choice for anyone looking to expand their language skills. Free download Everest Dictionary for Windows PC for free.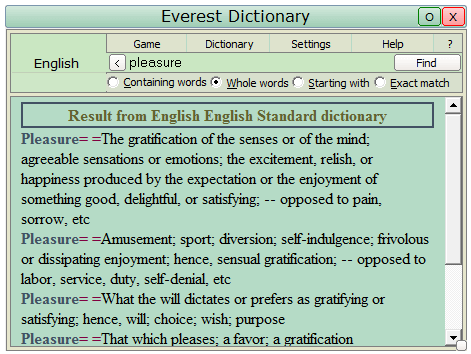 Is Everest Dictionary Useful?
Everest Dictionary is an incredibly useful tool for anyone looking to learn a foreign language. This offline dictionary app contains 37 distinct dictionary databases, allowing users to easily perform translations between various languages. It is incredibly convenient and user-friendly, making it a great choice for anyone looking to quickly and effectively learn a new language.
With Everest Dictionary, you will no longer have to worry about not understanding a word or phrase in a foreign language as you will have a reliable dictionary at your fingertips. The best part is that you can download Everest Dictionary for free and find the meaning of any word you come across. This makes it an ideal source for anyone wanting to improve their English skills.
Key Features:
Everest Dictionary is an incredibly comprehensive and helpful desktop dictionary and translator. It contains an extensive library of over 200,000 English words with definitions, synonyms, antonyms, cognates, pronunciations, and a glossary. Moreover, it also has an encyclopedia and translation features.
Everest Dictionary is a very useful language application that covers almost all European languages, including French, German, Romanian, Portuguese, Bulgarian, English, Italian, Spanish, Bulgarian, and Hungarian.
It offers a variety of search functions, such as searching various words across a vast array of dictionaries, searching words in indexed order, and using regular expressions.
Additionally, it contains a Search History function, a speech agent useful for English words, and a multi-language user interface.
It also included a small game to help users enrich their vocabulary. All of these features make Everest Dictionary a great tool for anyone who wants to learn a language or hone their existing language skills.
Everest Dictionary is a powerful and convenient tool for quickly and easily translating text between a wide range of languages. With the included Translator, users can translate text between Portuguese, Spanish, Italian, French, German, and English.
Additionally, users can create and save their own glossaries of words and share them with their friends. This makes Everest Dictionary an invaluable tool for quickly and accurately translating text between multiple languages.
Most importantly, this program is 100 % free to download and use.
These are some popular features of this offline dictionary software. To enjoy these features, download Everest dictionary for free.
Download Everest Dictionary for Windows PC:
Best alternative: Download WordWeb Free
Software information and system requirements: 
Publisher: WordWeb Software

Publisher website: www.wordwebsoftware.com

Category: Reference App.
Version: 3.10

License: Free

Operating Systems: Windows 7, 8, Windows 10

File size: 79.3 MB
Related Software