Download Free MP3 Cutter and Editor is a very lightweight and powerful application for Windows PC for editing MP3 files easily and lets you do your job quickly without any hustle. The current size of the app is less than 1 MB which also needs only a few system resources to run. Even though it has limited editing features, it is still a useful program for general users. You can download Free MP3 Cutter and Editor for Windows  11, 10, and 7 PCs and install it to edit MP3 files for free.
Free MP3 Cutter and Editor:
Download Free MP3 Cutter and Editor is an extremely useful and easy-to-use software for editing MP3 files. Using this small application, users can cut off portions of MP3 files, change the volume level manually or automatically, add fade-in/out effects, and convert any MP3 music between stereo and mono.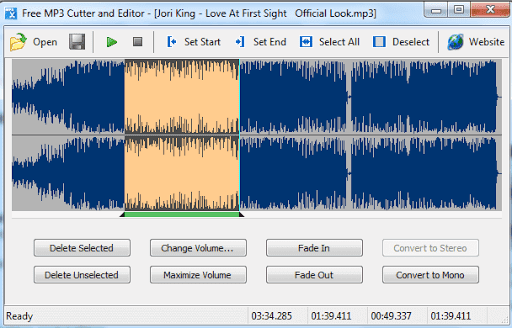 If you need a really powerful free audio editor for PC, then you can download and use Audacity for PC. Audacity is open-source audio editing software that lets you edit audio like a professional.
How to Cut MP3 Using The Free MP3 Cutter?
To cut or edit an MP3, click the "Open a file for editing" option after launching the app.
Then import the mp3 file using the open

icon. Wait for a few seconds till the MP3 load
Now using your mouse, click and drag on the graph to define the selection area directly on the track. you can select the whole track or a part of the MP3 using the computer mouse.
The Editing  Features:
You can either delete the selected part from the mp3 file or the unselected part of the mp3.
Using the Free MP3 cutter app, you can change the audio volume by specifying a percentage value. It lets you increase the volume of the MP3 as high as possible without distortion.
The Fade In and Fade Out option lets you gradually increase or decrease the volume throughout the selection.
You can convert the duplicate mono track to make a stereo track or mix all channels to make a mono track
Technical details:
Application name: Free MP3 Cutter and Editor
Publisher: musetips.com
Category: Multimedia/Audio Converter
OR Required: Windows 2000 or later
Version: 2.8 (Latest Version)
Size: 1 MB (967 KB)
Download Free MP3 Cutter and Editor for Windows:
Other Related Apps