Notepad++ is a free source code editor that supports a variety of languages, runs in the MS Windows environment, and is governed by the GPL License. Notepad Plus Plus provides additional features not found in the standard Windows text editor NotePad. It is specially designed for editing source code. Download the Notepad++ offline installer from here.
Download Notepad++ 64-bit is the most popular developer tool for Windows PCs, having a powerful editing component Scintilla which is written in C++ and uses pure Win32 API and STL for higher execution speed and smaller program size. By optimizing a number of processes, Notepad++ 64 bit seeks to reduce the world's carbon dioxide emissions by consuming less CPU power, resulting in a more energy-efficient and green environment.
Here you can download Notepad++ 64-bit for Windows computers. The Notepad 64-bit installer supports all modern 64-bit Windows versions. We are sharing the official links to download Notepad++. These are direct download links to get the latest version of Notepad++ source code editor software free.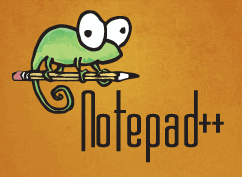 Features of Notepad++
Notepad++ 64-bit is an open-source free-source code editor application.

It has a very simple and easily customizable user interface.

One of the best features of Notepad++ is that it supports more than 50 programming, scripting, and markup languages.

Since it can be used as a portable application, you can carry it in your USB drive and run it from the USB.

Customizable interface

Syntax highlighting and folding

Auto-completion feature

Multi-language support

Export and print features

Advanced search and replacement capabilities

Multi-document support

Drag-and-drop support

Spell checker

Plugin system for additional features

Ability to save files in multiple languages
The interface of Notepad++ is highly customizable in many different ways. You can adjust the tabs vertically, horizontally, or by aligning them behind each other. Also, it comes with 20 preloaded themes to change the appearance of the program as required.
Details of the App:
Size: 4.57 MB
OS Supports: Windows (All Versions)
License: Freeware
Developer: Don Ho
Download Notepad++ 64-bit (x64) :
Click the below link to go to the download page directly:
Or download for Windows 32-bit (x86) PC
Notepad++ is a widely-used, long-standing tool that's been popular for ages. Unfortunately, many knock-off variations of the program are out there. To make sure you get the genuine version, download it from a reliable source like the developer's website or FreeFiles.com.
Notepad++ 64-bit is an open-source code editor app available for Windows 64-bit Operating systems. It is very lightweight (size under 5 MB) but one of the most powerful text and source code editor apps. Also, this is the best alternative to the Windows Notepad program. This program is written in C++ and it is licensed under the General Public License (GPL), hence it is free for both personal and commercial use.
Related Apps