FastStone is a free image viewer for Windows computers. FastStone Image Viewer is a simple, fast, and user-friendly application used to browse, image, convert and edit all major image formats.  It has a nice array of features such as image viewing, management, comparison, red-eye removal, emailing, resizing, cropping, color adjustments, musical slideshow, and much more. 
Download FastStone for Windows  PC; It has a Windows Explorer-like user interface and supports many popular image formats. Free download FastStone free image viewer for Windows 11, 10, 8, and 7 PC. It supports both Windows 32-bit and 64-bit PC. Get it from its official site using the download link shared on this page. The FastStone installer setup is 100% safe and secure.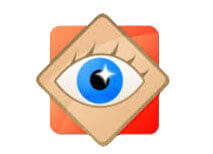 It has both innovative and intuitive full-screen mode to provide quick access to EXIF information, a thumbnail browser, and major functionalities via hidden toolbars that pop up when your mouse touches one of the four edges of the screen.
Features of FastStone Image Viewer:
FastStone is a Full-Screen viewer with image zoom support and unique fly-out menu panels
It offers a crystal-clear and customizable one-click image magnifier
It has some powerful image editing tools like resizing/resampling the image, rotating/flipping, cropping, sharpening/blurring, adjusting lighting/colors/curves/levels of image, etc.
Eleven re-sampling algorithms to choose from when resizing images
Image color effects: grayscale, sepia, negative, Red/Green/Blue adjustment
Image special effects: annotation, drop shadow, framing, bump map, sketch, oil painting, lens
Draw texts, lines, highlights, rectangles, ovals, and callout objects on images
Clone Stamp and Healing Brush
Superior Red-Eye effect removal/reduction with the completely natural-looking end result
Multi-level Undo/Redo capability
One-touch best fit/actual size image display support
Image management, including tagging capability, with drag-and-drop and Copy To/Move To Folder support
Histogram display with color counter feature
Compare images side-by-side (up to 4 at a time) to easily cull those forgettable shots
Image EXIF metadata support (plus comment editing for JPEGs)
Configurable batch processing to convert/rename large or small collections of images
Slideshow creation with 150+ transition effects and music support (MP3, WMA, WAV…)
Print images with full page-layout control
Acquire images from the scanner. Support batch scanning to PDF, TIFF, JPEG, and PNG.
Versatile screen capture capability
Powerful "Save As" interface to compare image quality and control generated file size.
Run favorite programs with one keystroke from within Image Viewer
Besides the Windows installer version, FastStone also offers a portable version of the program which can be run from removable storage devices like a pen drive or memory card.
Other features included in the FastStone image viewer are a high-quality magnifier and a musical slideshow with 150+ transitional effects, as well as lossless JPEG transitions, drop shadow effects, image annotation, scanner support, histogram, and much more. It supports all major graphic formats (BMP, JPEG, JPEG 2000, animated GIF, PNG, PCX, PSD, EPS, TIFF, WMF, ICO, CUR, and TGA) and popular digital camera RAW formats (CR2, CR3, CRW, NEF, NRW, PEF, RAF, RWL, MRW, ORF, SRW, X3F, ARW, SR2, SRF, RW2, and DNG).
Technical details of FastStone Image Viewer :
Title: FastStone Image Viewer 7.5 for Windows
Developer/Author: FastStone Soft
Website: www.faststone.org
Category: Multimedia/Image Viewer
Requirements: Windows 11, 10, 8, 7, Vista, XP (32-bit and 64-bit)
Language: English (Also available in English, Chinese, German, Japanese, Polish, French, Spanish, and Italian)
License: Free
Version: 7.7 (Latest Version)
Size: 6.9 MB
Download FastStone Image Viewer
Download FastStone Image Viewer Portable:
FastStone Image Viewer is also available in portable mode. This means you no need to install the application on your PC. A zip (compressed) file that includes all the required files to run the application independently from any folder you dump it in. You just need to extract the zip file on a memory stick or USB flash drive and use it from the USB Drive.
The major advantage is that you can carry it around on a memory stick / USB flash drive, or copy/migrate from PC to PC via simple copying of files. No installation is necessary. Size: 8.8 MB (unzipped).
Download FastStone Portable Version
Related Posts