SlimBrowser is a powerful web browser for Windows computers. It provides Faster web browsing without Ads, and 10 times faster file & video download. You can try SlimBrowser, a fast and powerful internet browser for PC. It is a secure web browser for Windows PC that stops the invasion of your privacy by blocking all ads and also has enhanced tracking protection features.
You can read about the major features of the browser and download SlimBrowser for Windows computers here.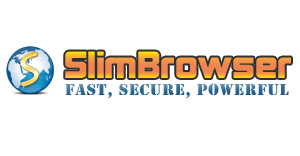 The web browser is one of the most important pieces of software on our PC. A web browser, or simply "browser" is an application used to surf the internet and view and access websites to collect the information available to users. Most of us use some popular web browsers like Google Chrome, Mozilla Firefox, Edge, or Internet Explorer to surf the internet. But, there are some web browsers out there that come with some other useful features.
Slim Browser is one of these browsers that has advanced features, is highly customizable, easy to use, and secure. It is one of the best web browsers for Windows in terms of features & customizability.
[Also download: Slim PDF – World Smallest PDF Reader for PC]
SlimBrowser is developed by FlashPeak for Windows PCs using the Gecko browser engine. It is one of the fastest internet browsers available only for the Windows Operating System. Due to the user-friendly and simplest GUI and easily customizable settings with some advanced features, Slimbrowser became popular among users. 
Like some popular web browsers, SlimBrowser also has some most advanced and powerful features.
Features of Slim Browser: 
Multi-threaded Download Manager
Boost your download speed by up to 12 times by opening multiple connections to the server to download a single file. Manage and track your download jobs easily in a convenient centralized location. Resume broken downloads.
One-Click Facebook Integration
Share a whole page, a selected piece of text, or an image within a web page among your friends on Facebook via a single click. Sharing your online activities with your circle has never been easier.
Instant Photo Upload & Photo Framing
Boost photo upload speed by up to 20 times by automatically shrinking photos to a web-optimized resolution right before the photos are uploaded. You can also add beautiful frames to your photos immediately before uploading to make your photos appear a lot more impressive among your friends.
Download YouTube Video to MP4 and MP3
Download any videos on youtube at blazing-fast speed with the built-in download manager. You can choose from all the available video formats such as mp4, WebM, and FLV. You can also convert the downloaded video file into an mp3 audio file so that you can listen to it on the go.
Web Page and Text Translation
Translate a full web page or a selected piece of text within any web page between any two languages. The translation is done without even leaving the original page.
Block Annoying Ads with Ad Blocker
Block obtrusive ads with the built-in adblocker. Save wasted bandwidth and memory consumed by ad images and flash files.
Weather Condition & Weather Forecast
View current weather conditions and 5-day weather forecast information directly inside the browser interface without going to any website.
URL Alias
Type a short predefined alias instead of a long website address to go to frequently visited websites. A must-have feature for keyboard junkies!
Web Page Screenshot
SlimBrowser allows you to save the screenshot of a whole page (including the portion not visible until you scroll down) so that you can easily keep a record of the web page you are currently visiting. You can also capture a screenshot of a selected area of the browser window.
You can download Slim Browser using the following links. 
Details of the Program:
Name: SlimBrowser

Developer: FlashPeak

License: Freeware

Category: Web Browser
Version: 18.0.0.0 (Latest Version)

Installer Type: Full Offline Installer

Size: 54 MB

OS Supports: Compatible with Windows XP/Vista/7/8/8/10/11 (32-bit and 64-bit)
Download Slim Browser For Windows 11, 10, 7
Download 64-bit version, Size: 56 MB
Download the 32-bit version, Size: 54 MB
Related Software