The Avast Secure Browser is a web browser by Avast to provide Windows users a fast, private, safe and secure web browsing environment. This browser is specially made to provide privacy by security during web browsing. Avast Secure Browser offers many essential features. Some of them are even better than Google Chrome and Mozilla Firefox. Most importantly, you can find these features on a simple page with detailed descriptions and you can switch them on or off easily. Download and install the latest Avast Secure Browser on Windows 11, 10, 8, and 7 (32-bit and 64-bit) computers. The official link to get this browser from the official site is listed below on this page.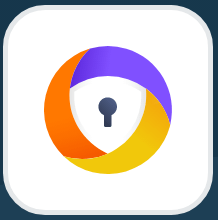 Features of Avast Secure Browser:
Browse anonymously: It helps you to browse the internet anonymously so that no one can monitor your web browsing activities.
Anti Tracking: Avast Secure Browser has built-in privacy features to hide your identity and digital footprints, and therefore no one can track you.
Anti-Fingerprinting: It hides your browser's real information such as version, extensions, etc. so no one can identify you or track you.
Bank Mode: The Bank Mode prevents hackers from seeing what you type so they cannot steal your passwords, credit card numbers, and other personal data.
Integration with Avast: Browser is sort of integrated with Avast Antivirus, Avast SecureLine VPN, and Avast Passwords, so you can scan your computer or connect to a VPN server.
Adblock: Avast Secure Browser has a pre-installed and enabled extension for blocking all website ads and loads pages faster.
Anti-Phishing: Anti-Phishing blocks dangerous websites before you visit and also prevents downloading of any dangerous files.
Privacy Cleaner: Privacy Cleaner cleans your browser history, cached images, cookies, and other junk with just one click, to keep your activity private and free up disk space.
SecureLine VPN: Prevents snoopers from eavesdropping on you and allows you to change your location, to access content not available in your own country
Password Manager: It has an inbuilt password manager to safely store, create, and autofill your login credentials for your favorite sites.
Video Downloader: Another useful feature of Avast Secure Browser is that it allows you to download videos from several popular video-sharing sites such as YouTube, Vimeo, Dailymotion, etc.
Your identity and digital footprint will be hidden, thanks to the product's built-in privacy features – meaning no one can track you. It will mean that your posts, emails, searching, and browsing history are yours, and yours only. The main purpose of using Avast Secure Browser is to provide all the features needed to prevent malware attacks, phishing scams, identity theft, and other online attacks.
Technical details of Avast Secure Browser: 
Title: Avast Secure Browser for Windows

Developer/Author: Avast Software

Website: www.avast.com
Version: 97.0
File size: 5.8 MB
Category: Web Browser

OS Requirements: Windows 10 32-bit, 

Windows 10 64-bit, 

Windows 7 32-bit, 

Windows 7 64-Bit, 

Windows Vista 32-bit,

 Windows Vista 64-bit, Windows 2008 R2, Windows 2008 64-bit,  Windows 2003, Windows 2000, Windows 9x, Windows 8, 

Windows 8 64-bit, 

Windows 2012, Windows XP, Windows 2008, Windows XP 64-bit.

Language: English (Also Available in English, Italian, French, Spanish, Polish, Chinese, German, and Japanese).

License: Free
Download Avast Secure Browser for Windows:
Click the below link to get the browser.
Other Related Simillar Apps