Spybot Search and Destroy for Windows 11 and 10 PC provides unique anti-spyware protection to protect your PC against all kinds of malware and privacy threats. It is a free spyware and adware removal software for Windows PC developed by Safer-Networking Ltd. Though Spybot Search and Destroy (Spybot-S&D) is free, it is powerful enough to eliminate most spyware, adware, or unwanted malicious software as said by the Spybot-S&D website. Download Spybot Search and Destroy free for personal use.
Do you know that your computer may contain dangerous spyware and ad bots, keyloggers, or malware that can hide inside your PC system without being detected by your antivirus program? But, you don't have to worry about it. Download Spybot Search and Destroy offline Installer for free. Spybot-S&D is available for Windows 10, 8, 7, Vista, and XP.
Spybot Search and Destroy features:
These are the main features of Spybot free version:
Anti-Spyware: It searches your PC for spyware and other harmful programs and removes most spyware, tracking software, adware, keyloggers, etc.
System Immunization: Spybot-S&D System Immunization is an effective way to prevent your computer system from malware attacks. It blocks access to any websites that contain malicious software. It also blocks certain tracking cookies known to spread spyware through your web browser. The system immunization supports most web browsers such as Google Chrome, Firefox, Opera, etc.
Startup Tools: The Spybot-S&D  Startup Tools help you to deal with the system startup to manage what gets loaded during the startup of your system. You can easily access the Startup Tools option by right-clicking on the Spybot-S&D icon in the system tray. Then select Advanced Tools and click on Startup Tools.
Rootkit Scan: Spybot-S&D rootkit scanner scans your system for any hidden rootkits and removes them.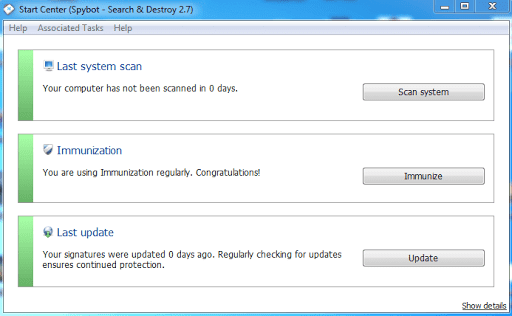 Technical Details:
Name: 

Spybot Search and Destroy
Category: PC Security/Spyware Remover
OS Support: Windows 10, 8, 7, Vista, and XP
Version: 2.9 Latest Version
License: Free for personal use
Download Spybot Search and Destroy Free:
File Size: 62.4 MB
Download Spybot for Windows  XP/Vista
File Size 44.37 MB
version: 2.4
AVG Antivirus All Product Free Download
Spybot is one of the best free anti-spyware software for your Windows Laptop and Desktop PC. You can download and install it on all Windows computers including Windows 11, Windows 10, Windows 8, Windows 7, and Windows XP (32-bit and 64-bit) computers. Download Spybot Search and Destroy for free using the above-listed links. This is the official download link to get this free spyware removal tool.
Image Source: Spybot homepage and App window.
Related Apps
Download Spybot Search and Destroy Free for Windows 10, 7