GOM Player is a popular media player application having a lot of useful features. It is a video and audio player which supports a wide range of media file formats. Here you can download the latest GOM player for free. GOM Player supports all 32-bit and 64-bit Windows operating systems such as Windows 10, 8, 7, Vista, and Windows XP SP3. It is also available for Android and Mac OS. The latest version of Gom Player download for Windows and other platforms is listed at the bottom of this post. Here you can also download the GOM Player APK for Android smartphones.
GOM Player is a powerful media player. It has several built-in codecs to support most types of media files without using any external codec. With the GOM player, you can enjoy high-quality videos and different audio tracks. It is also capable of playing broken or damaged media files.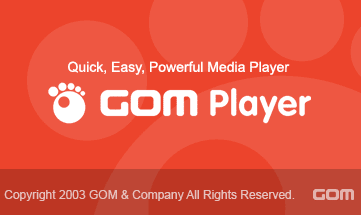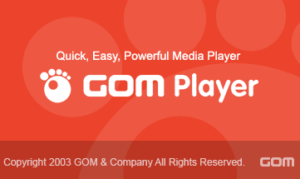 GOM media player also supports different sub-title files like SMI, SRT, SUB, DVB, PSB, TXT etc. He has a large library of subtitles collections for many languages. GOM player automatically searches its online database for available compatible subtitles, once the user plays any video. The user can easily choose and apply the required subtitles.
Features of GOM media player:
GOM player is a 

fully-featured free media player.
It produces high-quality audio and video.
Supports a wide range of media formats.
It player does not require external codecs to play most media files.
Supports most video formats like 

.avi, .divx, .ogm, .mkv, .mp4, .ifo, .asf, .wmv, .wma, .mov, .mpg, .m1v, .m2v, .vob, .m4v, .3gp/3gp2, .rmvb, .ogg, .flv, .dat etc.
Supports audio formats like 

.mp3, .m4a, .aac, .ogg, .flac, .wav, .wma, .rma , .alac  etc.
Supports various types of subtitle formats including .smi, .srt, .rt, .sub(& IDX), .vtt (text sub), .dvb, .psb, .txt, sbv, vobsub (embedded sub) etc.
GOM Player is also capable of playing

VR videos and

 360° videos.
It is also available for smartphones and Mac OS.
Technical Details:
Title: GOM Player

Developer:  GOM & COMPANY

Category: Media Player/Multimedia
Website: www.gomlab.com 

Languages: Multiple languages

License: Freeware

Version: Latest Version

File size: 29.7 MB 

Requirements: Windows (All Versions)
GOM Player

Download

for Windows:
GOM Player

Download

for other platforms:
GOM Player for Mac OS:
Related Software
Download GOM Player Free for Windows 7, 10