DaVinci Resolve is free video editing software that offers comprehensive video editing features such as color, VFX, motion graphics, and audio tools for free. Download DaVinci Resolve Free is compatible with all 8-bit video formats and operates at up to 60fps, with resolutions up to Ultra HD 3840 x 2160. With cloud-based workflow systems, the free version allows multiple users to collaborate and also supports HDR grading.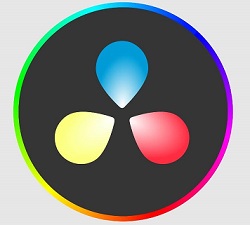 It is one of the best video editing software and the only comprehensive software package that combines editing, color correction, visual effects, motion graphics, and audio post-production. It has a modern and intuitive interface, making it easy to learn for new users, yet powerful enough for professionals.
With DaVinci Resolve, you can work faster and with superior quality, since there's no need to learn multiple programs or switch between them. This means you can work with camera-quality images the whole way through. Get the same exact tools used by professionals in one convenient package – DaVinci Resolve! DaVinci Resolve has developed an incredibly strong reputation in the movie industry and is now available to Windows PC users at absolutely no charge.
This powerful free video editing tool is packed with an array of features, including advanced color grading, visual effects, motion graphics, audio editing, etc., so you can edit your videos like a pro. With the 'Cut' page, you can trim away, with the 'Color' tab, you can adjust shades and shadows, etc.
Using this industry-standard program, you can get a Hollywood-level final product without spending a dollar. The user interface is incredibly intuitive and the tutorials are so comprehensive, so even if you're just starting out, you can be sure to tap into your creativity and create some truly beautiful videos.
Why Should You Use DaVinci Resolve:
Premium Feature: This single software program provides access to 8K editing, color correction, visual effects, and audio post-production. You can effortlessly switch between any of these tasks with just one click.
Collaborative Post-Production: DaVinci Resolve Studio is the only program created to allow for simultaneous collaboration between editors, assistants, colorists, VFX professionals, and sound designers. It's easy to see why DaVinci Resolve has become the go-to choice for high-end post-production and finishing for a huge number of films, TV shows, and commercials. Whether you're an individual creator or part of a larger team, this software is the ideal choice.
Wide range of comprehensive tools: It makes it possible for individual users to take advantage of a wide array of tools, as well as collaborate with others who have different creative skill sets. With a single click, you can transition between editing, color, effects, and audio. Moreover, you won't have to worry about transferring files between multiple applications, since everything is housed in the same program.
Best for High-End Post-Production: It is the only post-production software designed for working together. Many editors, assistants, colorists, VFX experts, and sound designers can all work on the same project at once! It's no surprise that DaVinci Resolve is the go-to choice for high-end post-production and is the top choice for completing Hollywood films, episodic television shows, and TV ads.
Work faster with Neural Engine: DaVinci Resolve 18 has included a brand new cut page for editors who need to work fast and efficiently! The DaVinci Neural Engine utilizes machine learning to introduce features like facial recognition, speed warp, and beyond. Adjustment clips allow you to apply effects and grades on the timeline, while quick export.
GPU Acceleration: GPU-accelerated scopes give you more technical monitoring alternatives than ever before. Additionally, Fusion is much quicker and Fairlight provides immersive 3D audio. The latest DaVinci Resolve is a huge release with hundreds of features that users have wanted.
Features:
Modern Intuitive Interface
8k Video Editing
3D Video Editing.
Activity Dashboard.
Animations & Transitions.
Audio Capture.
Brand Overlay.
Collaboration Tools.
Color Grading.
Free version available
System Requirement:
Before downloading, just beware that DaVinci Resolve is a powerful tool that requires a powerful computer system. So, make sure your computer has the minimum requirements to run the program. The following are the system requirements to run DaVinci Resolve Free on a Windows PC:
Windows 10 or later (64-bit)
16 GB of system memory (32 GB recommended)
Intel core i5 or AMD Ryzen 5 CPU (latest version)
Technical Descriptions:
Name: DaVinci Resolve
Developer/Website: Blackmagic Design
Category: Multimedia/Video Editor
Installer Type: Standalone offline installer
OS Support: Windows 11, 10 (64-bit).
Version: 18.1 (Latest Stable Version)
License: Free
Size: 2.45 GB
Download DaVinci Resolve Free Windows:
Click the below link to download DaVinci Resolve offline installer, Size: 3.05 GB
Or download Shotcut, the best lightweight and free video editor for Windows PC
FAQs:
Frequently asked questions:
Is DaVinci Resolve Free?
Yes, DaVinci Resolve is the free version of DaVinci Resolve Studio. You can use it for both personal and professional projects. In this free version, you can use several premium tools and features for free of cost.
Does DaVinci Resolve Free Have a Watermark?
No, DaVinci Resolve Free does not have a watermark on its video. When you edit a video using DaVinci Resolve, it does not put any brand watermark on the exported video.
Related Software